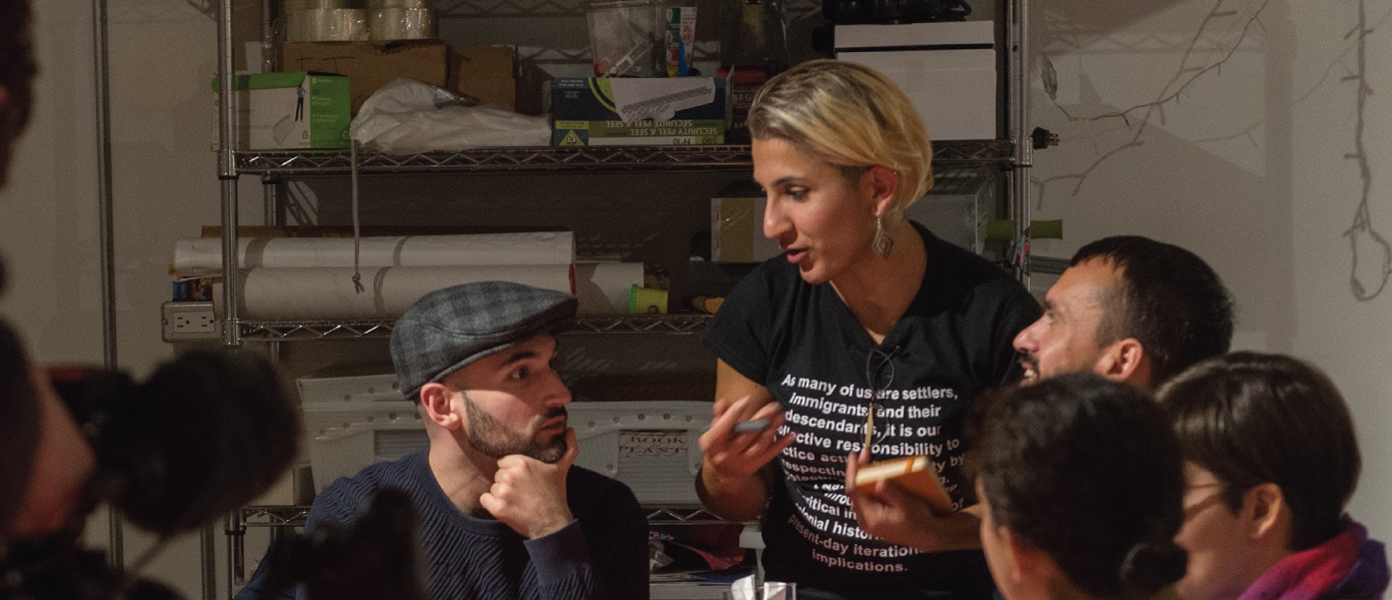 The Lie of the Land
May 2016
SAVAC 401 Richmond Street W.
In partnership with Dames Making Games
In May 2016, Golboo Amani undertook a residency with SAVAC under the title The Lie of the Land. Using an urban garden as a site-specific research space, Amani hosted several skill-sharing workshops and talks which focused on knowledge exchanges about nature's various cycles and offered participants a space to investigate settlers' relationships to Turtle Island. Informed by the knowledge produced by the exchanges at the Garden Skool, Amani produced an expansion set – Unsettling Settlers of Catan – to subvert the popular Settlers of Catan board game. Players of Amani's game are asked to consider treaties and repatriation to unsettle the land, challenging settler-colonial concepts of laying claim to stolen land.
The Lie of the Land consists of two ongoing social practice works, Garden Skool and Unsettling Settlers of Catan. The project as a whole focuses on breaking down the myths and fallacies of the colonial expansion and development that often shape the relationships settler colonials to this place, Turtle Island. Using both real and virtual landscapes Amani's work hopes intervene the settler colonial narrative by acknowledging the interdependency of multiple producers in exploring models of exchange and negotiation as a critical participatory skill.
Garden Skool is a site for community skill sharing and knowledge exchange that highlights diverse earth work practices through hands-on creative process. Garden Skool is a discursive site that engages with the pedagogical potentiality of multiple narratives in relation to issues of land, food sovereignty and cultural preservation. Garden Skool events focus on the exchange of agricultural and plant medicine knowledge that is shared on this land. Artists and local participants hosted a series of events including performances, discussions, gatherings and workshops that cultivated a deeper understanding of the various land practices enacted on the local landscape. Garden Skool held events throughout the growing cycle.
Unsettling Setters of Catan aims to research and produce a 'expansion pack' that intervenes with the board game Settlers of Catan by unsettling the colonial narrative of the game. Settlers of Catan is successful in harnessing players' skills as settler colonials. Unsettling Settlers of Catan allows for players to work through strategies of treating building and repatriation on a landscape that being settled by settler colonials. Catan as a site of industrialized settler colonization offers the opportunity to play out numerous strategies for radical social, political and industrial change.
Golboo Amani works in photography to performance, space intervention, digital media, and social practice. Her work considers pedagogical tools and methodologies as ready-made sites of social engagement. Her work has been shown nationally and internationally in venues including the Rats9 Gallery, Hemispheric Institute Encuentro (Montreal), Blackwood Gallery (Mississauga) Union Gallery (Kingston), XPACE Artist-Run Centre, FADO Emerging Artist Series, Rhubarb Festival (Toronto), TRANSMUTED International Festival of Performance Art (Mexico City), 221A Artist-Run Centre, and the LIVE Biennial of Performance Art (Vancouver). Recent works include a Public Reading a participatory performance on public transit for the Artist-Run Newsstand and the School of Bartered Knowledge an ongoing social practice work that holds space for dialog and negotiations around knowledge production.
View the Project
04
Game Night: Unsettling Settlers
4 November 2016 at 6:30pm