Staff
Indu Vashist
Executive Director
Indu Vashist
Executive Director
Indu Vashist has served as the Executive Director of SAVAC since 2013. Currently, she is serving her second term on Executive of the Board of MANO (Media Arts Network of Ontario), she sits on the Advisory Board of Blackwood Gallery, and the Advisory Council for Creative Time Summit hosted by The Power Plant Contemporary Art Gallery. She has written and published extensively including: "Redefining South Asia without Borders." (Art Gallery of Mississauga, 2013); "From Collective to Institution." (Surrey Art Gallery, 2015); "Family Photo Album." (Art Asia Pacific Vol 95, Sept/Oct 2015); "What do you do?: Basil AlZeri's You Do What You Love Because You Do One Two, and More Than Two."  (University of Waterloo Art Gallery, publication forthcoming). Prior to working at SAVAC, she had been equally splitting her time between India and Canada. In India, she worked with artist, queer and feminist arts organizations and collectives: Bombay-based Queer Nazariya International Film Festival, Delhi-based Nigah Media Collective, and Madras-based Marappacchi Theatre Group.
Email: indu@savac.net
Abedar Kamgari
Artistic Director
Abedar Kamgari
Artistic Director
Abedar Kamgari is an artist based in Hamilton and Toronto. In her art practice, Abedar unpacks the contexts and conditions of displacement and diaspora using site-responsive, durational, and relational approaches. She is deeply influenced by performance art and her pieces often emphasize and question the presence, absence, movements and responsibilities of bodies in relation to land and labour. Her current projects explore body memory, complicated inheritances, and the idea of distance, inspired by a play written by her father and garments passed down from her grandmothers.
Her art practice informs her work as a curator, writer, and arts worker. Abedar has developed programs on diasporic methodologies, performance art, race and the politics of inclusion, and contemporary art and gentrification. Abedar holds a BFA (2016) and an MFA (2022) in interdisciplinary studio and has performed, screened, and exhibited in a range of institutional contexts.
Visit: abedarkamgari.com or @kamgara on Instagram
Email: abedar@savac.net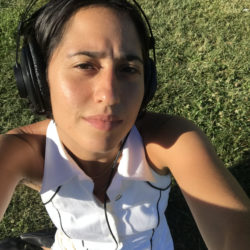 Sophie Sabet
Communications Coordinator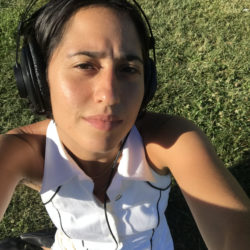 Sophie Sabet
Communications Coordinator
Sophie Sabet is a visual artist working in video, sculpture and installation. Her work explores different microcosms as a way of understanding societal relationality and structures of dominance. She approaches sites of conflict through intimate and nonlinear methodologies to offer new ways of being and thinking. 
Sabet received her MFA in Documentary Media Studies at Ryerson University in Toronto, Canada in 2016. Her work has been shown across Canada with recent solo exhibitions at The Robert McLaughlin Gallery in 2020 and Bradley Museum in 2019 where she was awarded the Gattuso Prize for outstanding featured exhibition at the CONTACT Photography festival. 
Visit: sophiesabet.com 
Email: communications@savac.net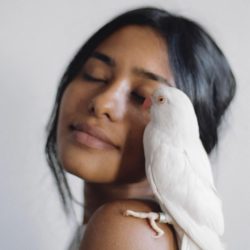 Ananna Rafa
Programming Assistant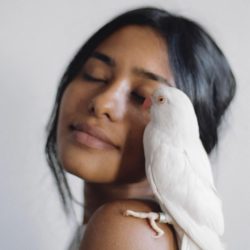 Ananna Rafa
Programming Assistant
Ananna Rafa is a photographer and painter born in Dhaka, Bangladesh, and based in Toronto, Canada, whose work oscillates between places, memories, and identity. She completed her BFA in Photography Studies at Toronto Metropolitan University and is currently an MFA candidate at York University, Toronto.
Her work explores themes of gender and sexuality, negotiating collective and complex identities arising out the effects of migration and colonialism on the South-Asian diaspora. In 2023 her work was exhibited in a two-person featured exhibition for Contact Photography Festival. Her work has been shown in Stephen Bulger Gallery Toronto, SPAO in Ottawa, Gallery TPW, Gallery 44, Artspace Gallery and more. Her past employment achievements include jointly running and establishing the G44 BIPOC Photo mentorship program with Darren Rigo and Heather Morton, with the support of a Canada Council grant. She also has an avid interest in working with immigrant populations, under-resourced communities and youth engagement, exemplified by her long term public arts activism with the communities of Thorncliffe Park and Flemingdon Park.
Board of Directors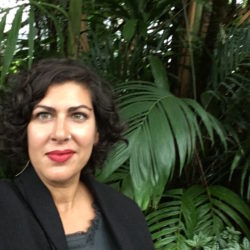 Swapnaa Tamhane
Board Member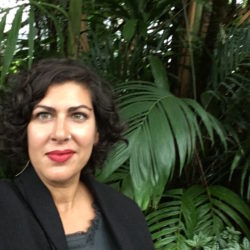 Swapnaa Tamhane
Board Member
Swapnaa Tamhane is an artist, curator, and writer. She was an Editor at Phaidon Press, London; Assistant Curator at The Power Plant, Toronto; and a Producer with Luminato Festival. Curated exhibitions include "In Order to Join – the Political in a Historical Moment," Museum Abteiberg, Mönchengladbach; CSMVS, Mumbai (2014-2015) and "HERE: Locating Contemporary Canadian Artists," Aga Khan Museum, Toronto (2017). Tamhane has been a Research Fellow with the Shastri Indo-Canadian Institute (2009), and an International Fellow with Kulturstiftung des Bundes (2013). She has been supported by Ontario Arts Council, Canada Council for the Arts, and Kunststiftung NRW. Tamhane and designer Rashmi Varma curated and wrote SĀR: The Essence of Indian Design, published by Phaidon Press (2016). She has exhibited her work at A Space Gallery, Toronto; articule, Montreal; and SAF Festival, Panjim, Goa. She also works in collaboration with artist Aman Sandhu under the name, August Fröhls, producing artworks and curatorial projects.  
Roxanne Fernandes
Board Member
Roxanne Fernandes
Board Member
Roxanne Fernandes (she/her) is an arts administrator and budding programmer from Tkaranto. The daughter of Guyanese immigrants, Roxanne is working to understand her lineage through migratory histories, storytelling, and the land. She writes, researches, and creates through a lens that is experimental, archival, photographic, and pedagogical. 
Roxanne studied to earn her Bachelors in art history, film studies, and english from the University of Toronto where in her final years she focused on contemporary photographic art and media. And afterwards, a postgrad certificate in arts administration and cultural management from Humber. Most recently she has worked at Images Festival, Reel Asian Film Festival, the Toronto Biennial of Art, and TIFF.
Sameen Mahboubi
Board Member
Sameen Mahboubi
Board Member
Sameen Mahboubi resides on the land of the Anishinaabe, Haudenosaunee and the Mississaugas of the Credit First Nation. Mahboubi is one of four co-founders and directors of Hearth, a DIY space in Tkaronto, is part of the editorial committee of Silverfish Magazine and sits on the Art Metropole board of directors. Mahboubi is interested in ecology, geography and urbanism and the relationships we all share with public space.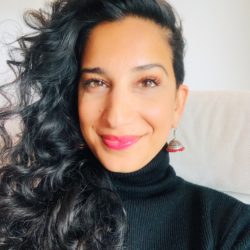 Suvi Bains
Board Member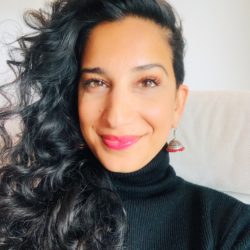 Suvi Bains
Board Member
Suvi Bains works as an Assistant Curator at Surrey Art Gallery and is a photographer and Expressive Art Therapist. She holds a BFA from the University of the Fraser Valley and majored in Photography at the University of South Wales. She recently curated her first major exhibition Sandeep Johal: What If? at Surrey Art Gallery. Bains's photography exhibit at the Reach Gallery titled KESH explored the boundaries of Sikh men's private and personal article of faith – kesh (Sikh men's un-shorn hair). At the Sikh Heritage Museum's exhibition (Mis)interpretation, her photography presented Sikhism from a feminist perspective. Bains follows her passion as a photographer, and as an Expressive Art Therapist with a keen interest in exploring personal narratives that reflect on the impact of stereotypes and ensuing stigmas in marginalized communities. Her work provokes empathy, cultural appreciation and understanding and cross-cultural reconciliations. As an Expressive Art Therapist, she has worked with adults, children, seniors, and refugees.
Shalaka Jadhav
Board Member
Shalaka Jadhav
Board Member
Shalaka spent their childhood between cities in India and in Dubai, before moving to a neighbourhood spitting distance from Ontario's largest mall.  In their day job, Shalaka designs and facilitates curriculum and workshops that support young people in moving towards just, climate-resilient futures.  Trained as an urban planner, Shalaka has followed the advice of an aptitude test to pursue Curatorial Practices at the University of Winnipeg. In 2021, Shalaka was the Curator-in-Residence at the Centre for Art Tapes, and as of fall 2021, Shalaka will be an Emerging Curator as part of the inaugural University of Manitoba School of Art Gallery Visiting Curator Program.  
Elham Fatapour
Board Member
Elham Fatapour
Board Member
Elham Fatapour is a Toronto-based visual artist and completed Master's in Fine Arts at York university 2020 that was awarded a Joseph Armand Bombardier Scholarship from the Social Sciences & Humanities Research
Council of Canada. Her recent works include painting, performance, and mixed media installation. They address diverse but interconnected subjects, including satellite usage, surveillance, vernacular architecture, modes of communication, and empathy.
Her ongoing 'homemade satellite dishes' series was the winner of the 2022 biennial art prize for the Surveillance Studies Network Conference and was presented at Rotterdam Erasmus University in June of 2022.
Kanika Anand
Board Member
Kanika Anand
Board Member
Kanika Anand is the Associate Curator and Public Programs Manager at Contemporary Calgary, Canada, and Curatorial Team Member of the Indian Ceramics Triennale.
She holds a Bachelor's degree in History from Delhi University and a Master's degree in Art History from the National Museum Institute, India. She has been curatorial fellow at the Centre National d'Art Contemporain, Grenoble, France (2012-13) and fellow at the Global Cultural Leadership Programme, organised by the Cultural Diplomacy Platform and the European Cultural Foundation (2018). 
She began her career as an arts manager in 2008, before pursuing her independent curatorial and writing practice in 2014. She has worked extensively with galleries and alternative spaces such as Exit Art and the Gagosian Gallery in the United States, the Centre National d'Art Contemporain in France and with Rajeev Sethi Scenographers and Gallery Espace in India. Her curatorial approach hinges on articulating the relevance of socio-cultural practices, and their function as a reflection of contemporary times. 
She writes for national and international art publications, and served as head project manager and editor for the seven-volume series of published research essays for Serendipity Arts Trust, India (2017-18).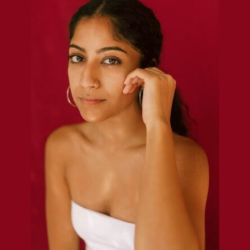 Sanjeet Takhar
Board Member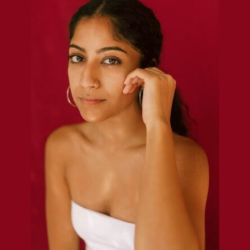 Sanjeet Takhar
Board Member
Sanjeet Takhar is the Artistic Director of Toronto's Music Gallery. As a curator and cultural programmer, Sanjeet focuses on amplifying the voices of emerging and underrepresented artists, and working to make legacy institutions more equitable and future-facing. Sanjeet has curated diverse lineups for major venues and events across Canada. Her work has been profiled in Now Magazine, Toronto Life, and the Toronto Star.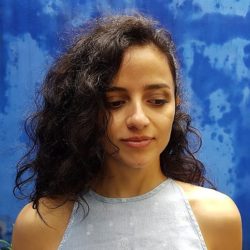 Nour Bishouty
Board Member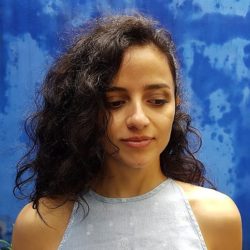 Nour Bishouty
Board Member
Nour Bishouty is an artist working in a range of media including works on paper, digital images, sculpture, video, and writing. Her practice engages familial and material narratives to explore the extents of colonial legacies and pose questions around dissonance, opacity, legibility, and the generative possibilities of misunderstanding. Bishouty's work has been exhibited in Canada and internationally including the Museum of Contemporary Art, Gallery44 (Toronto), Access Gallery (Vancouver), Darat Al Funun (Amman), the Beirut Art Centre, Casa Arabe (Madrid), and the Mosaic Rooms (London). Her artist book "1—130: Selected works Ghassan Bishouty b. 1941 Safad, Palestine — d. 2004 Amman, Jordan." edited by Jacob Korczynsci, was co-published in 2020 by Art Metropole (Toronto) and Motto Books (Berlin).