Staff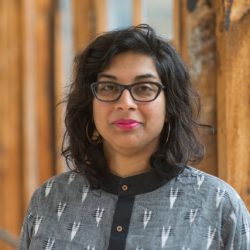 Indu Vashist
Executive Director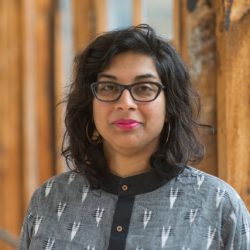 Indu Vashist
Executive Director
Indu Vashist has served as the Executive Director of SAVAC since 2013. Currently, she is serving her second term on Executive of the Board of MANO (Media Arts Network of Ontario), she sits on the Advisory Board of Blackwood Gallery, and the Advisory Council for Creative Time Summit hosted by The Power Plant Contemporary Art Gallery. She has written and published extensively including: "Redefining South Asia without Borders." (Art Gallery of Mississauga, 2013); "From Collective to Institution." (Surrey Art Gallery, 2015); "Family Photo Album." (Art Asia Pacific Vol 95, Sept/Oct 2015); "What do you do?: Basil AlZeri's You Do What You Love Because You Do One Two, and More Than Two."  (University of Waterloo Art Gallery, publication forthcoming). Prior to working at SAVAC, she had been equally splitting her time between India and Canada. In India, she worked with artist, queer and feminist arts organizations and collectives: Bombay-based Queer Nazariya International Film Festival, Delhi-based Nigah Media Collective, and Madras-based Marappacchi Theatre Group.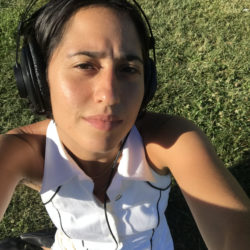 Sophie Sabet
Communications Coordinator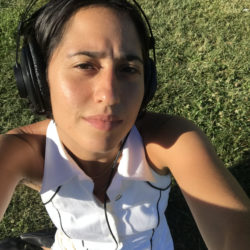 Sophie Sabet
Communications Coordinator
Sophie Sabet is a visual artist working in video, sculpture and installation. Her work explores different microcosms as a way of understanding societal relationality and structures of dominance. She approaches sites of conflict through intimate and nonlinear methodologies to offer new ways of being and thinking. 
Sabet received her MFA in Documentary Media Studies at Ryerson University in Toronto, Canada in 2016. Her work has been shown across Canada with recent solo exhibitions at The Robert McLaughlin Gallery in 2020 and Bradley Museum in 2019 where she was awarded the Gattuso Prize for outstanding featured exhibition at the CONTACT Photography festival. 
Aaditya Aggarwal
Writer in Residence
Aaditya Aggarwal
Writer in Residence
Aaditya Aggarwal is a writer, editor and film programmer based in Toronto and New Delhi. He has formerly worked at Mercer Union, Images Festival, Regent Park Film Festival, Toronto Reel Asian International Film Festival and TIFF. Aaditya's writing can be found in POV Magazine, Rungh Magazine, Canadian Art, The New Inquiry, Ethnic Aisle, Trinity Square Video and Koffler Digital, among others. He recently served as a Commissioning Editor for Reel Asian's 25th anniversary anthology (re)Rites of Passage. Currently, Aaditya is a Curatorial Fellow at the Canyon Cinema Foundation. 
Board of Directors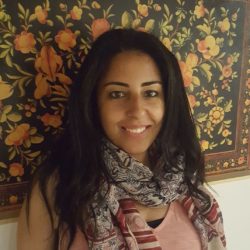 Yasmin Aly
Board Member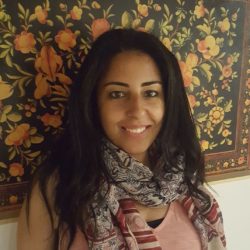 Yasmin Aly
Board Member
Yasmin Aly is a researcher, artist, and educator invested in seeing international and local artists contribute to Toronto and SAVAC through critical and contextualized art that speaks to the condition of a racialized cultural existence. Born in Cairo and drawing on lived and labour experiences in Germany and Egypt, she moved to Toronto in order to further explore concepts of coloniality, representation, feminist activism, and art. She is currently a doctoral student at the University of Toronto completing scholarship on Arab personage in European film (specifically German). She is a co-founder of the Postcolonial Reading Group; volunteer evaluator of the Regent Park Film Festival; and organizer in Cairo on issues of censorship and harassment. Her recent multi-media art pieces entitled "Fair & Lovely", part of the (Mus)Interpreted group exhibition (09/2017), reflected on racism in Egypt combining social media, glass work, and lived experiences of shadeism.

Ananya Ohri
Board Member

Ananya Ohri
Board Member
Ananya Ohri is the Director of Home Made Visible. She holds a Master's degree in Cinema and Media Studies from York University where she researched participatory documentary processes, ranging from community based video work in India and Canada, to online cyber-community video creations. Until recently, she has sat on the board of the South Asian Visual Arts Centre, as well as the advisory committee for the LCO Media Co-op in  Kenya. Ananya is also a filmmaker; her work has shown in Canada and India, with her most recent piece given Best Film distinction at the Toronto Urban Film Festival.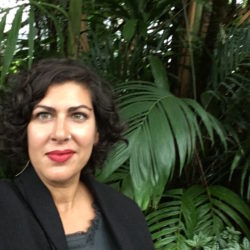 Swapnaa Tamhane
Board Member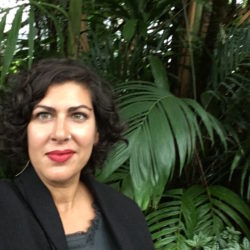 Swapnaa Tamhane
Board Member
Swapnaa Tamhane is an artist, curator, and writer. She was an Editor at Phaidon Press, London; Assistant Curator at The Power Plant, Toronto; and a Producer with Luminato Festival. Curated exhibitions include "In Order to Join – the Political in a Historical Moment," Museum Abteiberg, Mönchengladbach; CSMVS, Mumbai (2014-2015) and "HERE: Locating Contemporary Canadian Artists," Aga Khan Museum, Toronto (2017). Tamhane has been a Research Fellow with the Shastri Indo-Canadian Institute (2009), and an International Fellow with Kulturstiftung des Bundes (2013). She has been supported by Ontario Arts Council, Canada Council for the Arts, and Kunststiftung NRW. Tamhane and designer Rashmi Varma curated and wrote SĀR: The Essence of Indian Design, published by Phaidon Press (2016). She has exhibited her work at A Space Gallery, Toronto; articule, Montreal; and SAF Festival, Panjim, Goa. She also works in collaboration with artist Aman Sandhu under the name, August Fröhls, producing artworks and curatorial projects.  
Roxanne Fernandes
Board Member
Roxanne Fernandes
Board Member
Roxanne Fernandes (she/her) is an arts administrator and budding programmer from Tkaranto. The daughter of Guyanese immigrants, Roxanne is working to understand her lineage through migratory histories, storytelling, and the land. She writes, researches, and creates through a lens that is experimental, archival, photographic, and pedagogical. 
Roxanne studied to earn her Bachelors in art history, film studies, and english from the University of Toronto where in her final years she focused on contemporary photographic art and media. And afterwards, a postgrad certificate in arts administration and cultural management from Humber. Most recently she has worked at Images Festival, Reel Asian Film Festival, the Toronto Biennial of Art, and TIFF.
Sameen Mahboubi
Board Member
Sameen Mahboubi
Board Member
Sameen Mahboubi resides on the land of the Anishinaabe, Haudenosaunee and the Mississaugas of the Credit First Nation. Mahboubi is one of four co-founders and directors of Hearth, a DIY space in Tkaronto, is part of the editorial committee of Silverfish Magazine and sits on the Art Metropole board of directors. Mahboubi is interested in ecology, geography and urbanism and the relationships we all share with public space.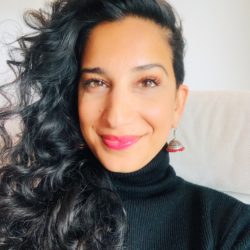 Suvi Bains
Board Member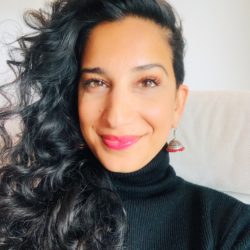 Suvi Bains
Board Member
Suvi Bains works as an Assistant Curator at Surrey Art Gallery and is a photographer and Expressive Art Therapist. She holds a BFA from the University of the Fraser Valley and majored in Photography at the University of South Wales. She recently curated her first major exhibition Sandeep Johal: What If? at Surrey Art Gallery. Bains's photography exhibit at the Reach Gallery titled KESH explored the boundaries of Sikh men's private and personal article of faith – kesh (Sikh men's un-shorn hair). At the Sikh Heritage Museum's exhibition (Mis)interpretation, her photography presented Sikhism from a feminist perspective. Bains follows her passion as a photographer, and as an Expressive Art Therapist with a keen interest in exploring personal narratives that reflect on the impact of stereotypes and ensuing stigmas in marginalized communities. Her work provokes empathy, cultural appreciation and understanding and cross-cultural reconciliations. As an Expressive Art Therapist, she has worked with adults, children, seniors, and refugees.
Shalaka Jadhav
Board Member
Shalaka Jadhav
Board Member
Shalaka spent their childhood between cities in India and in Dubai, before moving to a neighbourhood spitting distance from Ontario's largest mall.  In their day job, Shalaka designs and facilitates curriculum and workshops that support young people in moving towards just, climate-resilient futures.  Trained as an urban planner, Shalaka has followed the advice of an aptitude test to pursue Curatorial Practices at the University of Winnipeg. In 2021, Shalaka was the Curator-in-Residence at the Centre for Art Tapes, and as of fall 2021, Shalaka will be an Emerging Curator as part of the inaugural University of Manitoba School of Art Gallery Visiting Curator Program.