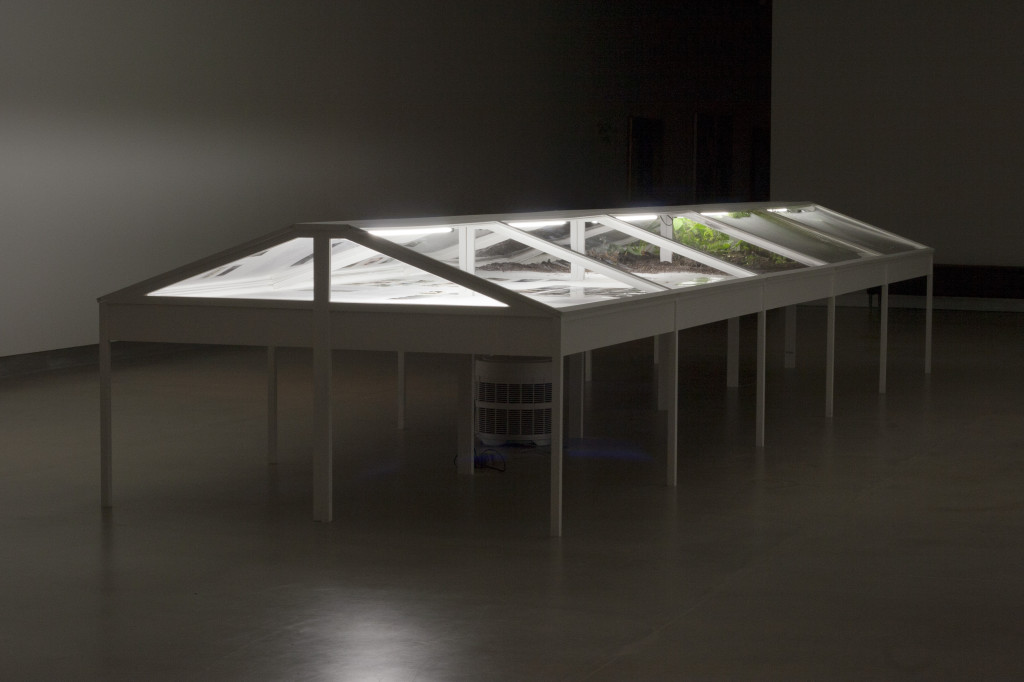 Abbas Akhavan: Study for a Glasshouse
2 June - 25 Aug 2013
PAMA (Peel Art Museum, Gallery + Archives) 9 Wellington St. E., Brampton
Abbas Akhavan's practice examines the domestic sphere, more recently focusing onto spaces just outside the home – the garden, the backyard, and other domesticated landscapes.
In collaboration with SAVAC, Akhavan will exhibit his new work, Study For a Glasshouse at PAMA (Peel Art Gallery, Museum + Archives) in Brampton, which is widely referred to as Canada's "Flowertown."  For nearly a century, the local floral industry was dominated by the Dale Estate, which at one time, was the largest cut-flower business on the continent and the third largest in the world. When local flower growing was no longer economically practical in the 1970s, greenhouses were torn down to make way for housing tracts and relevant artifacts and archival material found its way into PAMA's collections.
Akhavan's research into this once thriving local industry has resulted in a site-specific project that furthers his examination of the tenuous relationship between the human and natural worlds.  The glasshouse, which provided the artificial conditions needed to cultivate exotic species, is recreated in the exhibition containing both native plants and reproduction archival material from PAMA's archives.
Study for a Glasshouse is a way of "paying respect to the stifled voices and suffering lives that are at the foundation of industry, civilization, and archives; it lays bare the colonial violence that quietly unfolds across reams of mulched plant life and coal dust, ink on paper." – Marina Roy
Opening Reception
Sunday, June 2nd, 2 – 4pm
Peel Art Gallery Museum + Archives (PAMA)
9 Wellington Street, Brampton, ON
There will be a FREE bus to PAMA, that departs from the Gladstone Hotel at 1pm, and returns for 5pm. Space is limited. To reserve a spot, please RSVP to communications@www.savac.net
---
Abbas Akhavan's practice ranges from site-specific ephemeral installations to drawing, video and performance. The domestic sphere, as a forked space between hospitality and hostility, has been an ongoing area of research in Akhavan's work.  More recent works have shifted focus onto spaces just outside the home – the garden, the backyard, and other domesticated landscapes.
Akhavan's work has been exhibited at spaces including the Vancouver Art Gallery, Power Plant (Toronto), Darling Foundry (Montreal), KW Institute (Berlin), Performa 11 (New York), Delfina Foundation (London & Dubai), Galerie Mana (Istanbul), and Third Line (Dubai).  Akhavan was the recipient of Kunstpreis Berlin, 2012.