Previous
Next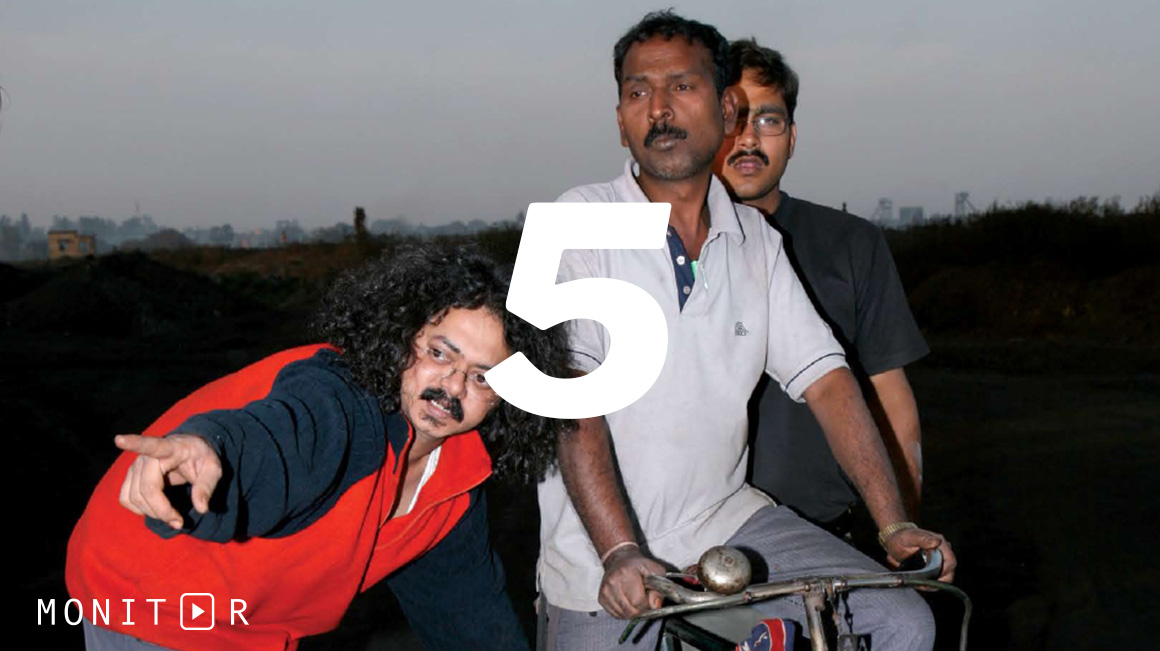 Mundane Catastrophes
By Mridu Chandra
We are both sculptor and creature of our world. We construct our reality just as we are products of it. We process and consume, we contemplate and react, and we complicate. It is in these processes, in these states of becoming, that we manifest who we are and what we believe in.
With bare hands and simple tools, the young boy in Ujjwal Utkarsh's Purna Virama conquers danger by getting into the belly of a bus and tearing it down. He takes on first the seats, then the metal siding, the windows, and each nut and bolt until it is finished. The roof envelops him, covers him with dust but he is consistent and determined. The call to prayer outside marks time for the others, but this young boy remains bound to his labor in yet another level of control. Finally, the bus collapses, admitting it is nothing without us.
Khaldoon Ahmed's Nur Doner: A Day in the Life of a Doner Kebab in Berlin offers a more unsentimental look at civilization. A sheep hangs from a hook dripping blood before it is transformed into a rack of meat dripping with juices that make your mouth water. It is an ode to night street culture in Berlin, and the camera's eye is distant and cold, revealing the psychological and social landscape we have created for ourselves that allows us to separate ourselves from the objects we consume.
Lahore-based video artist Unum Babar is an enemy of romance, and she rebels against our precious existence on this planet as she records a pair of ordinary scissors mutilating a white flower amidst the sterile hum of a laboratory. The process is quiet and deliberate, breaking an implicit law of nature, creating a harrowing sense of discomfort and loss. The scissors in Not Being Quite Sure Till Afterwards stop just short of complete annihilation, unable to destroy beauty altogether.
It's Open documents the last days of two dying traditions in the Indian city of Bangalore. Filmmaker Nilanjan Bhattacharya splits the screen and uses humour to unpack questions of survival confronting a tiny wrestling practice ground and a 100-year old cinema. Times have changed, our environment has changed, and both cinema and wrestling practices are giving way to new forms of entertainment and exercise.
Aseem Mishra merges fact with fiction in Seventh Seam to construct a real-life tale of one man's experience when he was trapped in the seventh seam of a coalmine in Dhanabad, India in 2001. The sole survivor, Ansari is hurled against one damp wall after another as the corpses of his colleagues float by. Reliving moments of his life and pulsing with the energy of constant motion and thought, the imagery oscillates between gloomy detritus to painterly plays of light and form. We experience the psychological landscapes of pain and suffering in one man's single-handed encounter with the unknown. This is the process of preparing for death, and of searching for truth in the tunnels of the mind.
California-based Natasha Mendonca offers a more nostalgic aftermath of nature's destruction in Water Colours. She turns the camera on her own trauma after her house was ravaged by the Mumbai floods in 2005. She provides a visual representation of an inner transformation; she creates images through magnified lenses and plays with the scale and reality of private interiors that aim to recreate the artifacts and objects of her memory. It's a process she has to go through before she can move forward.
Xin Nie Qui Le! presents documentary footage shot during the Chinese New Year in Beijing in the first year after a 12 year ban on fireworks was lifted. Bursting fireworks was banned in Beijing for 12 consecutive Chinese New years from 1994 to 2005, to minimize injuries, fire, air and noise pollution. In 2007, this ban was lifted in all areas of the city. Siddhartha Joag transforms the fireworks into digital objects that, with their reference to the outburst of emotion and political expression, give us an abstracted moving painting and a joyous ode to freedom. The deafening sound of the fireworks and their opaque smoke clouds also evoke related sounds of warfare.
Rex VS. Singh is another subjective interpretation of an actual event, this time in the distant past. In 1915, undercover cops entrapped two Sikh mill-workers and accused them of sodomy. The video stages the ensuing trial four different ways, depicting multiple versions of reality and the process by which two upstanding members of society rid their neighborhood of unwelcome immigrants. It is a process by which they can control their environment, and it reveals how police corruption, racism, homophobia, and a covert whites-only immigration policy conspired to maintain the status quo of the colonial port city of Vancouver. John Greyson, Ali Kazimi, and Richard Fung interrogate the colonial foundations on which Canadian society was built and activate echoes from the past to reveal something aboutCanada today.
These ten artists from five countries in MONITOR 5 author a collective meditation that is heavily steeped in reality, inspired by imagination, and prompted by tradition. Ultimately, they are asking us to look at ourselves.
Curated by Mridu Chandra
Mridu Chandra is a filmmaker, producer, and writer based in New York. She has been creating work in both the documentary and feature film industries for the past decade.