Previous
Next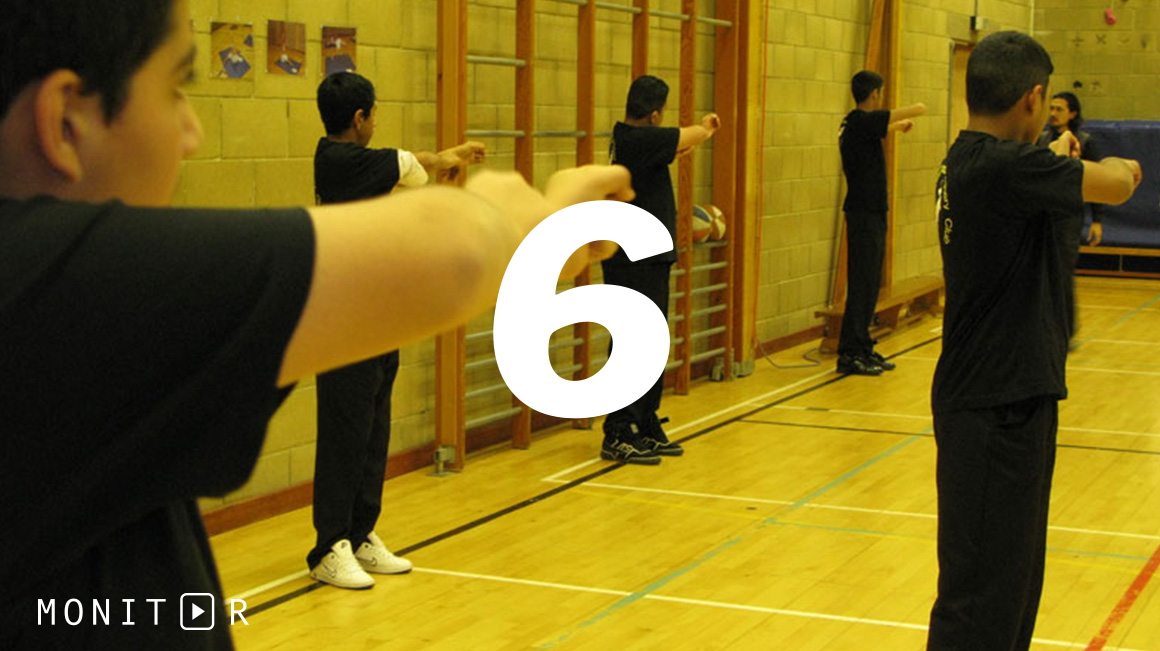 Meandering Currents
by Richard Fung
These ten short films and videos from South Asia and its diaspora meander like a river through ever-shifting landscapes. Along the way, new aesthetic contours are revealed. Familiar thematic territory is viewed from fresh angles. Currents mix in unusual ways.
Born in England of an Armenian mother and an Indian father, Montreal-based choreographer Roger Sinha draws from diverse dance traditions. In the Barber of Bangalore, Rossini's familiar opera is transported from Seville to the eponymous south Indian metropolis where three bharata natyam dancers interpret the music through a lexicon of facial expression known as abhinaya. The results are surprising, at times amusing, and thoroughly enthralling.
Cultures also comingle in The Art of Archery in East London. Yassar Ali Sadiq imparts concentration, discipline and self-confidence by way of instruction in the bow and arrow. Sadiq runs an archery club at an all-boys English high school where most of the students are Asian. His poetic musings on the history and spirituality at the core of this martial art set the tone for the stillness and focus inside the practice hall, in sharp contrast to the boisterousness of life outside.
A Story of Nida Known as Pasha Ali, a poignant documentary about resilience and everyday courage, continues the program's exploration of performing gender while beginning a short detour about families. Nida describes her move from Hyderabad in southern Pakistan to Multan, hundreds of kilometers to the north. In Multan, Nida lives as a young man and is known to everyone as Pasha. With his earnings running a public call centre, Pasha sends money home to help support his mother. He misses her greatly, but savours the freedom to be himself.
In Tapestry, a Parsi family maintains tradition and identity through the fertility ceremonies preceding a marriage. But the performance of the rituals is unpracticed, self-conscious and clumsy, and a stubborn coconut symbolizes the challenges of cultural continuity for this small and widely dispersed community.
Despite its sober message, Tapestry is gently humorous. The tone takes a darker turn, however, with Love Song, a terse commentary on the city of Karachi in which laughing vultures haunt an opulent mansion. In the next film, There is a spider living between us, Tejal Shah further peels back the skin of romanticism surrounding the family. This experimental tour de force butts up a mix of animation styles with poetic and diaristic voiceover narrations. Subjects pondered include the intricacies of queer female desire, the sexual position known as tribadism, and the distress of overhearing one's parents making love.
Divya Mehra also fuses the incongruous, and in many works juxtaposes a low-tech aesthetic with a political critique of mass culture. Using her own body as performing subject, she exploits the internal contradiction of the Youtube era in which private moments garner mass circulation. In The Importance of Being Earnest, her choice of images to illustrate her karaoke take on "A Whole New World," the hit song from Disney's 1992 version of Aladdin, is both bitingly funny and devastating.
As Nepal emerges from near-absolute monarchy and years of civil war, it is witnessing a cultural rebirth. Filmmaker Pranay Limbu helps clear the way for a peaceful future by confronting the recent past. Forgive, Forget Not! is a stunningly rendered account of one journalist's experience of incarceration and torture by the Nepali military during the dying days of the ancien régime. Bhaikaji recounts in detail the fifteen months he spent blindfolded, detained without charge on suspicion of being a Maoist. On his release, he calls for reconciliation rather than revenge. Limbu illustrates Bhaikaji's tale with a concision and restraint that maximizes the emotional impact.
Merging another account of upheaval with the family chronicle, American artist Holly Rodricks interviews her grandparents about their escape from Lahore to India during the violent partition of the subcontinent. At the dissolution of the British Indian Empire in 1947, Muslims fled to the newly created state of Pakistan, while Hindus took flight in the opposite direction, towards India. 12.5 million people were displaced and up to a million people killed in communal rioting. Rodrick eschews historical documents or archival images, but instead emphasizes the particularity and individuality of her grandparents' testimony. We contemplate a black and white photograph of the young couple, but she denies us any establishing shot of what they look like today. Rather, her camera peruses their wrinkled, sagging skin, her grandfather's shorn yet overgrown grey beard, her grandmother's slippers and walker. Partition has no agenda. Among its many small lessons it reminds us of the fragility of the peace we may take for granted, and how trauma endures in the memories of the survivors.
Across religion, across language, across class, one thing that unites people across a huge swath of the Indian subcontinent is a love of hot, sweet tea, served milky or plain, with or without spices. Bangladeshi filmmaker Ashim Halder celebrates this beloved beverage with a short that is bound to make you thirsty. Let's Drink captures the chaiwalla's consummate skill and the trance-like pleasure with which his customers imbibe their brew.
Richard Fung is a Trinidad-born, Toronto-based video artist and cultural critic whose work deals with the intersection of race and queer sexuality, and with issues of post-colonialism, diaspora, and family.