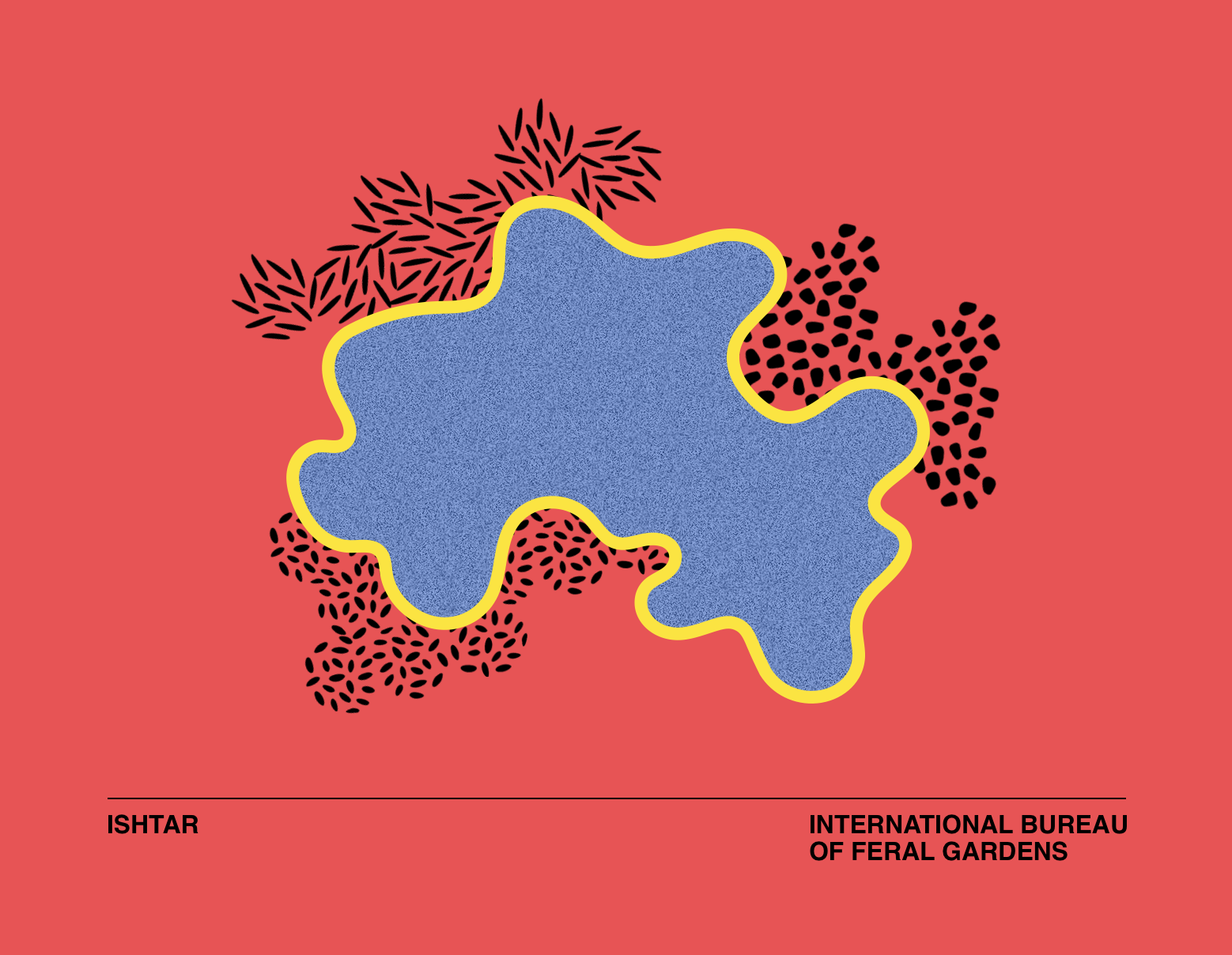 Ishtar's International Network of Feral Gardens
Summer 2020
Physically Distanced Programming
SAVAC is pleased to present Ishtar's International Network of Feral Gardens, a playful, experimental food sovereignty initiative. Dedicated to encouraging the cultivation of feral gardens and building an international artists network of out-of-the-box food systems, Ishtar's International Network of Feral Gardens is a long-term project that opens up new economies for growing, sharing and eating food. Playing with the discursive tensions between the wild (feral) and the domestic (garden), the Network  thoughtful seeds, unusual tools, and ancestral intelligence with artists, curators and cultural workers to conjure up atypical spaces for cultivating fruits, vegetables, herbs and medicinal plants.
The namesake of the Network, the goddess of fertility Ishtar (aka Lady of the Date Clusters, Inanna, Aphrodite, or Venus) compels us to think about how feral gardens are wrapped up in reproductive justice, climate care, and psychic resilience. An ancient Mesopotamian tale tells us about how Ishtar's passing into the underworld rendered the earth fruitless. Hearing the pleas of barren lands, the gods agreed to split Ishtar's time between the underworld and overworld, giving us distinct seasons. Her Mesopotamian devotees would say, "No one comes back from the underworld unmarked." As winter ends every year, Ishtar rises to the surface of the earth each spring ever more powerful. Invoking Ishtar's wisdom that reproduction extends beyond the womb to the fields and sky, Ishtar's International Network of Feral Gardens encourages observation and meditative reflection on the interdependence of human and plant life. 
seeds are meant to disperse
Ishtar's International Network of Feral Gardens is led in collaboration with artist and curator Christina Battle whose on-going project "seeds are meant to disperse" draws attention to food security & sustainability, species diversification, seed copyright, climate change, urban renewal, and anti-capitalist forms of exchange. As the project unfolds, Battle will share seeds from her collection with project participants and build a guidebook of prompts, instructions, and writings. The guidebook, available for download and print, will be continuously developed as the seasons change. 
Download the Guidebook [Chapter One – May – Christina Battle]
Download the Guidebook [Chapter 2 – June – Christina Battle]
Download the Guidebook [Chapter 3 – September – Christina Battle]
How will this work? 
SAVAC invites artists and cultural workers with gardens in Toronto and beyond to join Ishtar's International Network of Feral Gardens. SAVAC will disperse seeds to participating gardens by distributing seed packs at our shared garden–the Network's headquarters–and/or delivering packs to participating gardens where possible. SAVAC will provide fees/stipends for equipment, soil, seeds etc. to community members who join the Network. When we put our gardens to rest and Ishtar makes her annual descent in the fall, we will celebrate by visiting gardens separately-together and sharing the harvest. 
If you have a feral garden, or would like to start one, please get in touch ASAP at ishtar@savac.net with your contact details (including location). If you are cultivating a garden in Toronto, we will get in touch with information about seeds, funding and documentation. Packages for participants will contain seeds specifically selected for Toronto's climate. If you have your own seeds, let us know what you're planning to grow. Indoor gardens are welcome and we look forward to experimenting with how this project can grow internationally. 
If you do not have your own garden and would like to participate in this project, please get in touch at ishtar@savac.net and we will do our best to arrange for a safe, socially-distanced way for you to participate in our shared garden. 
To share the collective energies of this experience, we will launch Ishtar's International Network of Feral Gardens together by planting the first seeds on the Milk Moon on 7 May 2020.
DISPATCHES
SAVAC is pleased to introduce DISPATCHES, a series of timely reports prepared by Ishtar's International Network of Feral Gardens about the state  of race, food security and anti-capitalist forms of exchange in the time of the pandemic. Each dispatch will share resources and information about how capitalist food systems disenfranchise BIPOC communities. The first edition of DISPATCHES delves into the concept of food apartheid to consider the ways that (de-facto) segregation continue to shape access to affordable and nutritious food. 
Dispatch 002: Migrant Workers in Agriculture
Dispatch 003: Urban Agriculture as Protest
VIRTUAL WORKSHOPS 
An informal conversation with artist Christina Battle and participants of Ishtar's International Network of Feral Gardens. Christina Battle shares her artistic practice and the values we attach to seeds, weeds, and gardens. During the conversation, we will work through our gardening experiences so far and reflect on prompts from Christina's guidebook.
Weeding Value – Christina Battle – 22 June 2020
Final virtual event for Ishtar's International Network of Feral Gardens. We spoke on creative strategies for seed saving and seed dispersal with artist Asuncion Molinos Gordo, particularly her project IN TRANSIT (Botany of a Journey), commissioned for the Artist's Garden of Jameel Arts Centre, which culminated in a site-specific installation of a garden grown from seeds that have travelled in the intestines of Dubai's population. We were also joined by artist Christina Battle who reflected on the final chapter of her guidebook for the Network on practical methods of seed saving.
Seed Saving – Asunción Molinos Gordo & Christina Battle – 2 October 2020
Christina Battle's research and artistic work considers the parameters of disaster; looking to it as action, as more than mere event and instead as a framework operating within larger systems of power. Through this research she imagines how disaster could be utilized as a tactic for social change and as a tool for reimagining how dominant systems might radically shift. Seeds are meant to disperse (2015-ongoing) is an ongoing work where Christina grows, saves and shares seeds. Seeds take time to grow, to harvest, to prepare, and to share—an act that she sees as gift as much as necessity and survival. As such, the seeds are offered as barter or gift, in an attempt to encourage and support alternative systems of exchange. As the seeds are gifted and grown they are meant to help others begin to build a world different from the trajectory it is currently on. Christina continues to adapt and rethink strategies as the work strives to be more aware of itself: of the ways in which it might help draw attention to food security & sustainability, species diversification, seed copyright, climate change, urban renewal, and anti-capitalist forms of exchange. Seeds are meant to disperse.
GROUNDWORK: A PERFORMATIVE FEAST TO CELEBRATE THE HARVEST OF ISHTAR'S INTERNATIONAL NETWORK OF FERAL GARDENS 
Friday 9 October 2020
Zahra Komeylian and Ayumi Goto's ongoing collaboration explores slow and quieter ways of engaging artistic practice. Using food-making and food-sharing as both material practice and mode of inquiry, their performance interventions and research is concerned with the politics and potentialities of radical care, and care-work. 
For their first collaborative performance, Zahra and Ayumi co-developed recipes culminating from a series of conversations, excursions, readings and shared meals in the forest. Through a practice of 'reaching toward' one another, and in an amalgamation of shared food knowledges, Zahra and Ayumi hosted a performative five-course distant forest feast. Prepared with harvests from Ishtar's International Network of Feral Gardens, the feast for 25 took place in the company of gardeners from the Feral Gardens, as well as others interested in the topics of care, activism, and community-sharing. The event took place on October 9, 2020, on the cusp of Toronto's phase 2 COVID lockdown. 
Readings during the feast included A Culture of Place by Bell Hooks, Light in the Dark by Gloria Gloria Anzaldúa, and Meditation on Beauty by Bahar Orang. Quotes from these texts were folded into various courses of the feast and read collectively.