Panel Discussion – Evaporation, Condensation, Precipitation, Collection
Saturday 25 February 2023, 12:00pm-4:00pm EST
Virtual Event - Zoom
Creative response to Evaporation, Condensation, Precipitation, Collection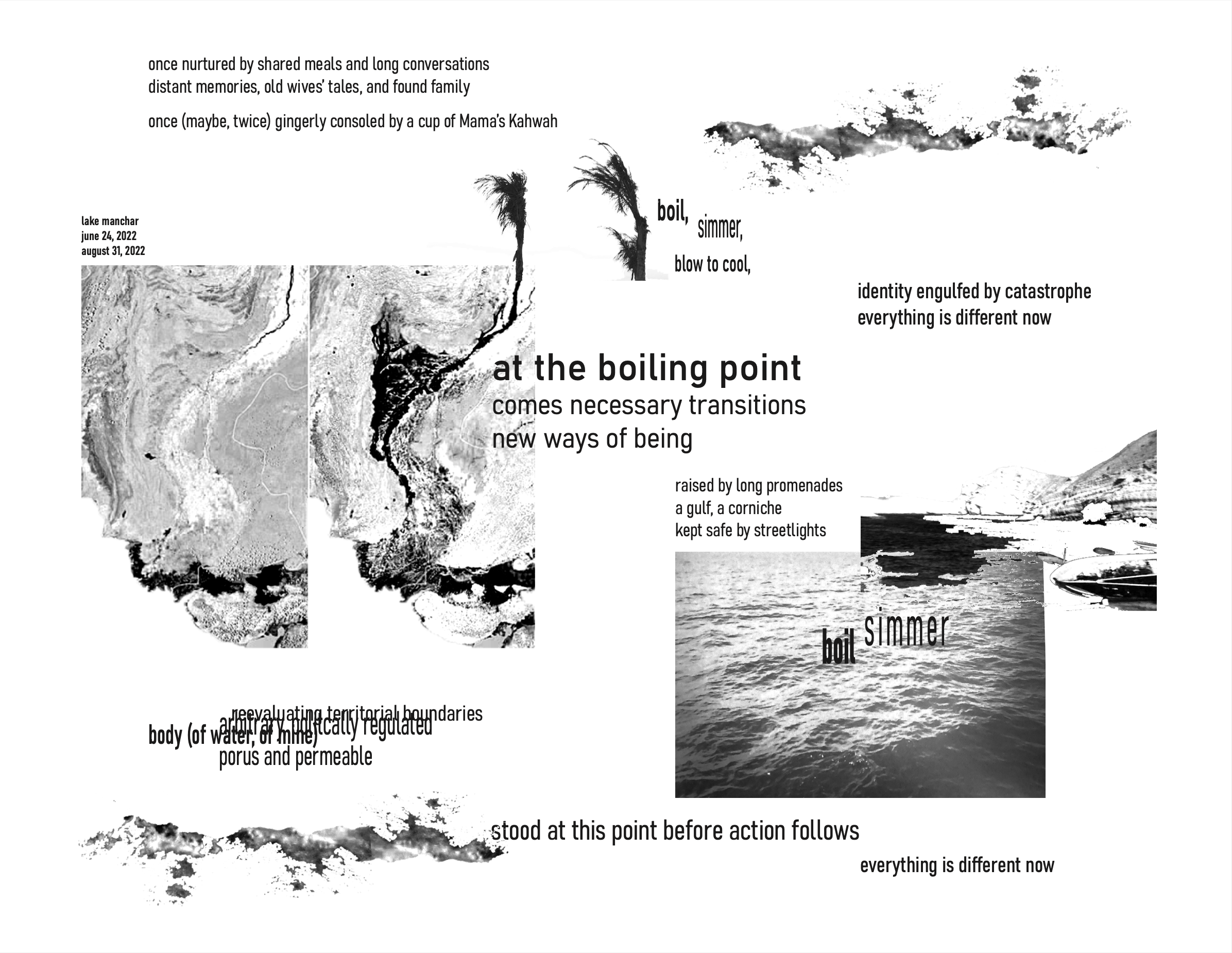 Image Description: A spell, a recipe, a call to find kinship beyond arbitrary boundaries. A series of inverted images: captured and cherished from my last visit home, retrieved from monitoring satellites, and borrowed from my father's personal archive. Moments of pause found in between. Lake Manchar's waters spread, exceeding any cropped boundary. Augmented photographs reflect distorted memories and slowly shifting sites. Restless, pixelated clouds loom around the horizon. Moments of pause found in between.
Bhavika Sharma (B.A. Visual Studies, University of Toronto) is an interdisciplinary artist based in T'karonto/Toronto. Through uncovering alternative, personal, and unwritten narratives relating to built landscapes, their practice seeks to expand on non-dominant histories—flora, fauna, creeks, and lived experiences become new markers for reading landscapes. Bhavika's practice is produced through glitching, transforming, tethering, and taking apart to unravel complex narratives of place and re-imagine safer futures.
Evaporation, Condensation, Precipitation, Collection
A panel discussion 

Featuring: Rachel Kalpana James, Shelly Bahl, Haema Sivanesan, Sharlene Bamboat, Nahed Mansour and Toleen Touq
Liquid water evaporates into vapour, condenses to form clouds, and precipitates back to earth to be collected in our water bodies. Water moves from one reservoir to another, from river to ocean, from the ocean to the atmosphere. This endless cycle is an apt metaphor for the programming practices of curators of colour who work in various spheres with hopes of affecting lasting change in other parts of the arts ecosystem. 
As Vijay Prashad noted, "Multiculturalism emerged as the liberal doctrine designed to undercut the radicalism of anti-racism. Instead of anti-racism, we are fed a diet of cultural pluralism and ethnic diversity. The history of oppression and the fact of exploitation are shunted aside in favour of a celebration of difference and of the experiences of individuals who can narrate their ethnicity for the consumption of others." 
For decades, staff at SAVAC have been working under these conditions to intervene and transform the art world to create a more hospitable climate for artists of colour. Join our past artistic directors Rachel Kalpana James, Shelly Bahl, Haema Sivanesan, Sharlene Bamboat, Nahed Mansour and Toleen Touq to learn how they adapted their practices to resist the demands of the status quo while building on the achievements of their creative contemporaries and elders. These practitioners will share their perspectives on the needs of diasporic artists, the ways in which diversity, equity, and inclusion policies have affected programming over the course of the last 30 years, and how lessons from the past can help sustain the work still to be done.
—
Rachel Kalpana James (she/her) is a visual artist, educator and arts administrator. Of South Asian origin, James resides in Ottawa, on unceded and unsurrendered territory of the Anishinaabe Algonquin Nation. James is a graduate of Carleton University and the Ontario College of Art. In 1993, as one of the founding artist members of the South Asian Visual Arts Collective (SAVAC), Toronto she worked to start and sustain visual arts programming as part of Desh Pardesh (Co-Coordinator, 1994), and in various capacities thereafter. At a time of organizational crisis in 2000, James was sought out and hired as Managing Director and incorporated SAVAC as a nonprofit organization (2001) to continue the work of offering South Asian visual artists opportunities to develop and participate in the culture sector as exhibiting artists, curators, jurors, programming committee and board members, volunteers etc. After a move to Ottawa in 2007, James coordinated Urban Diversity Forum and was the inaugural Curator of Education-Ottawa Art Gallery. She continues to exhibit her multimedia and performance art works in Canada and internationally. Recently James was awarded the SAW Prize for New Works (2020) and her video projection Bright Oriental Star (2011) was acquired for the Ottawa Art Gallery's collection.

Shelly Bahl is an interdisciplinary artist, curator, educator and decolonizing art trailblazer. She has been leading and participating in BIPOC and feminist artist-run culture in Toronto and NYC for over 25 years. She is a founding artist member of SAVAC (South Asian Visual Arts Centre) and ZEN-MIX 2000: Pan-Asian Visual Arts Network in Toronto. She was the inaugural director of SAVAC from 1997-1999.
Bahl was born in Benares, India, and is currently based in New York City. Bahl received her BFA (Visual Art and Art History) from York University, Toronto and her MA (Studio Art) from New York University. Her interdisciplinary work in drawing, painting, sculpture/ installation, performance, photography and video has appeared in many solo and group exhibitions in North America and internationally. Currently, she is the Visiting Artist/ Co-Curator of the Be(Coming) The Museum project at the Lahore Museum in Pakistan. In 2023, she will be an Artist-In-Residence at Rungh, Vancouver.  

Her art practice explores the strange and surreal aspects of cultural hybridity and old and new forms of colonization. She is interested in the global transmission of iconographies and other forms of visual culture. She also investigates the surrealistic experiences of women who lead enigmatic trans-cultural lives. These narratives are based in facts and fictions rooted in specific cultural histories, which she then re-contextualizes and re-imagines.
Haema Sivanesan has held leadership and curatorial positions in public art galleries, artist-run centres and festivals around the world. Her curatorial work focuses on non-western, post-colonial and transnational art histories.  In 2018, she was the recipient of an Andy Warhol Foundation for the Visual Arts, New York, Curatorial Research Fellowship; and in 2016, the recipient of a Robert H. N. Ho Family Foundation, Hong Kong, multi-year research and exhibition development grant for the project In the Present Moment: Buddhism, Contemporary Art and Social Practice (Figure 1 and Art Gallery of Greater Victoria, 2022).  Recent exhibitions include, Charwei Tsai: The Eye is the First Circle (2021-22), Imagining Fusang: Exploring Chinese and Indigenous Encounters (2019), Fiona Tan: Ascent (2019), and Supernatural: Art, Technology and the Forest (2018).  Her essays and critical writing have been published in catalogues, journals and book chapters in Canada and abroad.

Sharlene Bamboat is a moving image and installation artist based in Tio'tia:ke/Montreal. Her practice often engages with translation, history and music, uncovering sensory and fractured ways of knowing. Sharlene regularly collaborates with artists, musicians and writers to animate historical, political, legal, and pop-culture materials. Her most frequent collaborator is with Alexis Mitchell. The duo were long list recipients of the National Gallery of Canada's 2020 Sobey Art Award. 

Sharlene contributes regularly to the arts-sector in Canada, as programmer, board member for arts organizations, and has been a member of numerous collectives. 

Her work has been exhibited & screened internationally. sharlenebamboat.com
Nahed Mansour is a practicing artist that has worked in Toronto's arts sector for over fifteen years, establishing a strong record of inclusive, interactive, and socially aware programs that push traditional boundaries of community-engagement, arts education, and artistic practice. Nahed currently works as Senior Manager, Gallery Engagement in the Learning & Public Programs department at the Royal Ontario Museum.  She has previously worked in curatorial roles supporting community engagement at the Gardiner Museum, Museum of Contemporary Art -Toronto, South Asian Visual Art Centre (SAVAC) and Mayworks Festival – Toronto. Mansour has served on the boards of several artists-run centres, and is currently the Secretary of Galleries Ontario.
Toleen Touq is a curator, cultural producer and facilitator working between Toronto, Canada and Amman, Jordan. In Amman, she is co-founding director of Spring Sessions (2014-ongoing), a yearly residency program that brings together artists, researchers and cultural practitioners in a collaborative and experiential learning environment that is fueled by responsiveness to place and deep curiosity. She co-initiated and co-curated The River Has Two Banks (2012-2017), a multi-disciplinary artistic platform that addressed the historical, political and spatial relations between Jordan and Palestine. In Toronto, she was artistic director (2018-2022) of SAVAC, a nomadic artist-run center dedicated to presenting and developing the work of marginalized and racialized artists. She initiated Ways of Attuning (2021-2023) with Liz Ikiriko to study intimate and expansive curatorial practice with a group of participants across Turtle Island. She is currently pursuing a Master's degree in Cultural Studies at Queen's University. Her writings have been published with Ibraaz, Sternberg Press, A Prior, Manifesta Journal and others.